Profile of Zhi Jin
Zhi Jin (HK) Ltd. is the wholly owned subsidiary of First Foundation which is located in Fanling, Hong Kong. It specializes in the production of engineering plastics. Also, in accordance with clients' requests, it will customize different types of production while providing the best solutions. First Foundation's own brand, NewMat resins, only use new materials that are manufactured in Hong Kong, have the best quality, meet all environmental requirements and can provide all kinds of environmental certificates.
NewMat elastomer (Easiprene®) is a leading material used in Hong Kong and Southern China toys and baby products industry. It is also widely used in producing all kinds of hangers, electronic products and in overmolding on kitchenware. Its special features  include low odor, easy painting and great touch feel.
NewMat's engineering plastics include toughened PMMA, super tough nylon, super toughPC, modified copolyester, wear-resistant ABS and PC/ABS alloy and more. The main usages are buckles, toothed gears, cosmetics, display shelves, toys, external housing of electronic products and more.
– Established in 1999
– Manufacturing sites located in Fanling (Hong Kong), and Shanghai.
– Major materials produced are engineering plastics and elastomers (TPR/TPE)
– Annually produces more than 6,000 tons of items
– Production is based on American technology, with advanced automated production line
– Product branding, NewMat represents First Foundation's high quality commitment and mature technology
– Dedicated formulation services to meet customer needs
R&D
– The R&D team is mainly consisted of specialists from the Department of Chemistry and the Department of Polymer Materials from famous universities all over the world who have worked in many renowned manufacturers before. All of them have more than 10 years experience in plastics modification.
Our expert team formulates your custom products with:
– High quality research and development equipment
– Advanced testing and analytical equipment
Every team member:
– has deep understanding and the latest knowledge on polymer science
– keeps abreast of market information and regulatory trends
Production
– We uses fully automated production line equipment
– All staff members are professionally trained to ensure quality and consistency
QC/Certification
– Inspection on each incoming batch of raw materials
– Real-time monitoring
– Triple inspection testing on each lot produced
– 3 years of retained lot samples maintained
ISO Cert 9001-2015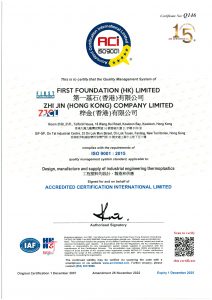 ISO Cert 14001-2015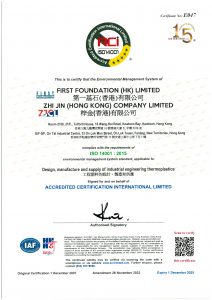 ISO Cert 45001-2018
Strong technical support
Experienced technicians are fully committed to on-site technical support and effective problems-shooting on the spot. Prior to production run, we will conduct mold flow analysisto anticipate, avoid and address possible problems efficiently. This can reduce the chance of  problems during trial runs or official production run.
Complete Sales Plan
1. Understand customer requirements
2. Provide product analysis
3. Recommend options of materials
4. Offer free samples
5. Support to oling and production trials
6. Ensure total customer satisfaction